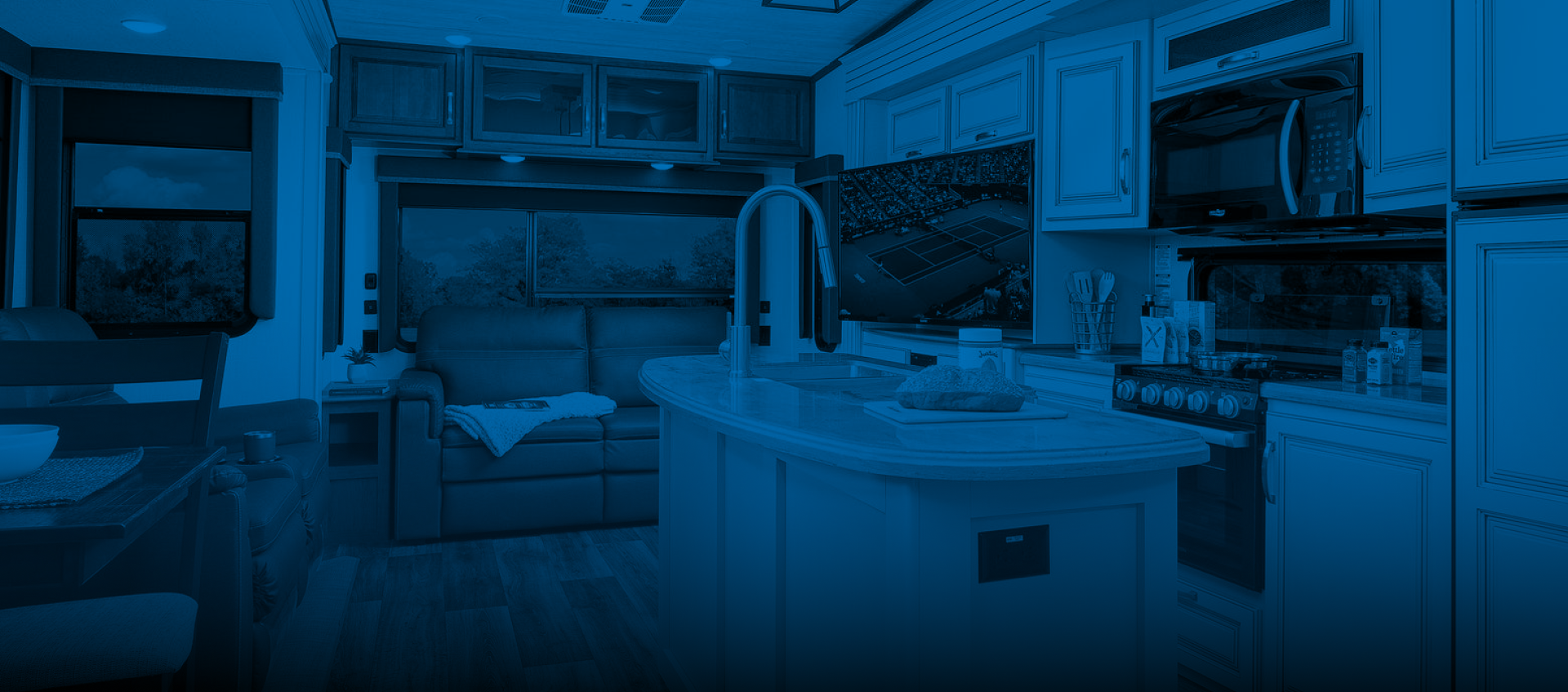 Model 26RBS
This model has a rear bathroom, with an outside kitchen.
Overview

Overview

| | |
| --- | --- |
| Sleeping Capacity | 4 |
| Bunkhouse | No |
| Kitchen | Standard |
| Outdoor Kitchen | Yes |




Specification

Specifications

| | |
| --- | --- |
| Shipping Weight | 3,083 Kg |
| Carrying Capacity | 909 Kg |
| Hitch | 399 Kg |
| Length | 9.119 m |
| Width | 2.540 m |
| Height | 3.480 m |
| Fresh Water | 204 Litres |
| Waste Water | 114 Litres |
| Grey Water | 227 Litres |

*Length is defined as the distance from the centerline of hitch pin/coupler to rear bumper of trailer.

COUGAR FEATURES & OPTIONS

EXTERIOR

Structural I-beam frame with stamped steel cross-members & outriggers
Power tongue jack
Laminated sidewalls with 5-sided aluminium superstructure
Slide-topper package (Optional)
Tinted safety glass windows
Dual-pane frameless windows (Optional)
Automotive grade painted fiberglass front cap with KeyShield™ protection
Alpha Super Flex roof membrane
One-piece, heated and enclosed polypropylene underbelly
Heavy duty axles with never-adjust brakes
Goodyear Endurance Tyres
10-ply E-rated tyres
Aluminium wheels and full-size spare trye
Electric four-point auto levelling system (Selective Models)
Electric stabilizer jacks (Selective Models)
Friction hinge entry door
LCI® SolidStep® on main entry
Full pass-through storage with slam-latch baggage doors
Rear observation camera prep
Battery disconnect (Selective Models)
Industry best 227 litres freshwater tank capacity
Capital Grill™ (Selective Models)
50 Amp electric, pre-wired and braced for ducted bedroom A/C option (N/A 22RBS & 22MLS)
Outside shower
Electric awning with gas strut arm (Selective Models)
2nd electric awning (Selective Models)
2" accessory hitch with 136 Kgs storage capacity (Selective Models)




INTERIOR

Dimmer switch in slideout (Selective Models)
Night roller shades throughout
Residential, raised panel hardwood cabinet doors and drawers
Theatre seating with heat & massage IPO tri-fold sofa (Selective Models)
Arched rafters with 2.133m ceiling height, with crown moulding




KITCHEN

Residential hardware and hidden hinges on cabinet doors
Seamless, pressed countertops
Stainless steel undermount kitchen sink
High-rise chef's faucet and sprayer
Booth dinette / wall-mounted Dream Dinette™ (Selective Models)
Wall mounted free-standing table & chairs (Selective Models)




APPLIANCES & UTILITIES

Blade Pure™ 13.5K BTU ducted ultra quiet Coleman Mach Q-Series & residential filter (Selective Models)
Blade Pure™ 15K BTU ducted ultra quiet Coleman Mach Q-Series A/C & residential filter
35K BTU ducted furnace
Girard On Demand (Tankless) Water Heater 40K BTU
LED HDTV, 12V AM/FM/CD/DVD/MP3/Bluetooth® player with HDMI ARC control, 12v USB charging centres, & exterior TV hook-up
8 cu. ft. refrigerator (Optional)
10.4 cu. ft. Norcold 12V refrigerator
0.9 cu. ft. microwave
533mm Furrion® range w/ Piezo ignition and glass stovetop cover
LED interior and exterior lighting
iN-Command® Generation 3 with Global Connect
110V appliances and 230V sockets




BEDROOM

1.778m x 2.032m (70" x 80") king bed with underbed storage
LED reading lights
Outlets & USB on both sides of bed
Platinum Series king mattress
Cable TV / satellite ready
Full wardrobe with siding mirror doors (Selective Models)
Barnwood style decorative accent wall behind bed




BATHROOM

Seamless, pressed countertops with large sink
Shower with glass door and skylight
Porcelain foot flush toilet
Medicine cabinet
Brushed nickel towel rack
Illuminated light switch




WEATHER PROTECTION

Climate Guard protection package
Heat-deflecting white sidewalls, membrane and A/C
Radiant foil barrier in front cap
Remote temperature probes
Double insulated rear wall
Insulated slide floors
Two roof attic vents
12V electric heat pads on all holding tanks
PEX plumbing




SAFETY

Smoke detector
Carbon monoxide detector
Propane gas leak detector
Fire extinguisher




KEYSTONE INNOVATIONS

Blade Pure™ Airflow System - Blade Pure™ has taken everything about the Blade™ high-performance airflow system and refined it. A thoughtful combination of new-age efficiency and residential comfort, Blade Pure takes camping comfort to the next level.
HyperDeck™ RV Floor – Stronger, lighter and more resilient than traditional wood laminated flooring, HyperDeck challenges industry norms to build better RV's.
iN·Command® Control System with Global Connect™ - Monitor and manage your RV from a central control panel or mobile phone.
Cougar Climate Guard Package - For a longer and more comfortable camping season, Cougar's Climate Guard protection package is designed to keep owners comfortable in temperatures up to 43°C (110°F) and down to -17°C (0° F).
Tru-fit™ Slide Construction – A more durable slide room design that minimises functional motor and structural stress and resists leaking.
12V Colour-Coded Wiring Standard – Easy to trace circuits simplify electrical and entertainment system troubleshooting.




SOLARFLEX

All models offer SolarFlex™ 200 as standard, with the option to upgrade to SolarFlex™ 400i or SolarFlex™ 600i-L on selective models.
2x 100 AMP Hour Dragonfly Lithium Batteries (Optional)




WARRANTY

2-year limited base warranty
Recreation Vehicle Industry Association (RVIA) Canadian Compliance Seal




Throughout the year, Keystone RV may modify model features, floor plans, and specifications. Website data typically reflects the most recent production run, however, any or all of these items are subject to change without notice. Please check with our staff representative for the details specific to the unit you are purchasing. You should also read all labels that are on each trailer for information concerning the safe operation of the unit and its components, actual weight(s), cargo carrying capacity, and tyre information.






DÉCOR
DRIFTWOOD
With the Driftwood decor, the design team took everything owners love about Cougar interiors and brightened it up. Upholstered seating and window valances move to a light stone gray for a refreshing take on Cougar's classic style.
Details
COUGAR IN-COMMAND® GENERATION 3 WITH GLOBAL CONNECT
Systems monitoring and total control over power, slide rooms, awnings, HVAC and more from a central monitoring panel or your smartphone.
How it Works
The brains of the system is the Body Control Module (BMC). Commonly located in the external pass-through storage compartment. The BMC houses numbered, color-coded wiring and a series of solid-state relays. These relays switch on and off the various electrical components of the RV.
Communicating with the BMC is the Display Commander— a state-of-the-art, wall-mounted touchscreen that can be personalized to your preferences. Touching a function on the Display Commander sends a signal to the BMC to open or close a circuit.
Virtually all the Display Commander functions can be duplicated on your smart phone or tablet through the iN-Command app (download from the App store or Google Play).
Using Wi-Fi and mobile data connections, in-Command with Global Connect gives you the ability to monitor and control many vital functions of your Keystone RV from anywhere in the world.
COUGAR HYPERDECK™ HIGH-PERFORMANCE WATER-RESISTANT RV FLOOR
Keystone's exclusive HyperDeck™ is stronger, lighter and more resilient than traditional wood laminated flooring – and it resists water and water damage. By its nature, traditional wood floor construction presents the possibility of taking on water, a watchout for RV owners who need to remain vigilant to keep moisture out of their coaches. Hyperdeck replaces wood with 100% inorganic materials, designed to resist water and water damage. That's peace of mind that's worth its weight in gold.
COUGAR FOUR SEASON CAMPING
For a longer and more comfortable camping season, Cougar's Climate Guard protection package is designed to keep owners comfortable in both high and low temperatures. Tested to a temperature rating up to 43°C (110°F) and down to -17°C (0°F). 12V tank heaters included.
HOT WEATHER PROTECTION Standard 15,000 BTU main A/C and exclusive Blade high-performance air management system. Optional 13,500 BTU ducted second A/C (N/A 22RBS). Cougar travel trailer have an optional ducted and thermostatically controlled 2nd A/C. Radiant foil barrier in front cap reduces amount of radiant heat that can come from the units front cap during summer months.
GIRARD TANKLESS WATER HEATER
Exciting new feature for 2023 is the Girard tankless water heater. This is truly a game changer for those that spend a lot of time in their trailer. This tankless water heater allows owners that are hooked up to city water the luxury of endless hot water. Gone are the days of turning on and off the water while showering, now owners can enjoy a warm shower without the worry of the water becoming cold.
On-Board Micro-Processor
Monitors inlet water flow, inlet water temperature, and outlet water temperature and regulates the burner to maintain desired hot water temperature.
Intuitive User Control Pane (UCP)
The Interior wall-mounted digital controller displays all operating functions allowing for temperature settings from 35°C to 50°C, Celsius or Fahrenheit display, and provides visual diagnostics for easy troubleshooting.
COUGAR SolarFlex™
Impossibly versatile, exceptionally designed, SolarFlex is shattering customers' expectations of factory solar power. SolarFlex™ eliminates the guesswork, delivering affordable, high-quality RV solar energy systems. Choose the SolarFlex package to suit your requirements: SF200, SF400i, or SF600i-L.