Parkit 360 FAQ's
Below is a list of questions that we are frequently asked. If you have any other questions for us about our trailer dollies, don't hesitate to get in touch today...
Q: How long will it take to receive my purchase?
A: After purchasing your Unit, we'll send you a receipt via email. Tracking numbers will be sent to you once the package leaves our warehouse. They will become active once the package starts moving.
Shipping within the UK will take roughly 2-3 Business days, weather and holidays permitting. Longer if shipped to Europe.
Q: How much is Shipping?
A: Details and Shipping Quotes can be supplied on request, Contact Us today!
Q: Taxes for European Customers
A: By law, 20% VAT must be applied to UK orders. For European orders units are sold with zero VAT but customers are responsible for customs charges in their respective country.
Q: What kind of battery do I need for my Parkit360 Unit?
A: Aside from our U1 Battery Kit, all of our Force and Transformer dollies can be powered by a 12-Volt, 24 Group Deep Cycle Battery. Please see our Manual for detailed Trailer Battery connection instructions.
Q: Do you have Discounted Used Units?
A: Occasionally we may have a few scratch and dent units available! Contact Us for details.
Q: Do I need a Thrust Washer?
A: The Thrust Washer is designed for trailers with step down hitches/lips to ensure there is no gap when connecting to our ball mount. If your hitch is flat and there is no gap in your connection, you do not need the Thrust Washer.
Q: What does a proper connection look like?
A: Standard Connection - The image below shows the connection when the Thrust Washer is not needed: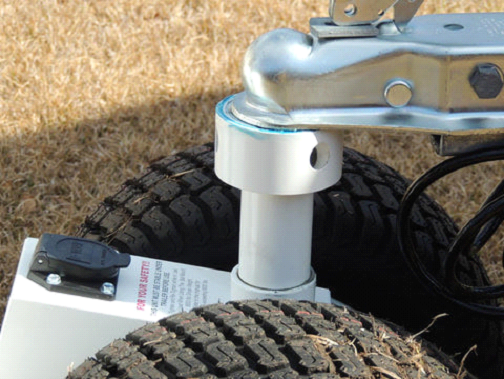 Connection with Thrust Washer - The image below shows the connection when the Thrust Washer is needed: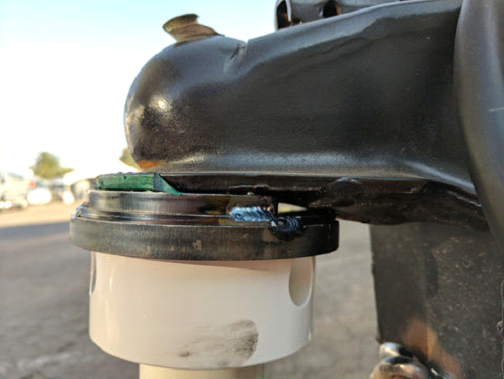 Q: Where can I find the Owner's Manual?
A: Instructions for all past and present trailer dollies are available on our Manuals page.
Q: How much of an incline can I push and pull on?
A: With all our dollies, we recommend no more than a 6% grade, with a minimum of 10% of your trailers gross weight on the hitch.
Q: Why do the Hitch Balls come with welds on them?
A: The welds on the ball are specifically designed to work with our locking process. Without the welds, the ball will endlessly spin inside the hitch. Please see the video below showing our connection process.
Q: What is the recommended tyre pressure setting for my Parkit360?
A: For the Force it is 40 PSI and for the Transformer and Carrier it is 90 PSI
Q: I bought a pre-owned/older Parkit360 model that's a few years old. How do I find out which Model I have?
A: Does your dolly have our red Mountain Graphic on the sides? If so, you have a Unit that was built after 2017. If your Dolly doesn't have the Graphic on the sides, check our Manuals. It may be an earlier 5K or 10K HD/SD Model, or an even older P360 S, M, L, or XL.
To see if it's a 5K or 10K model, check the chain in between the tyres. If the chain is closer to the top of the tyre, you have a 10K/HD model. If the chain is lower and closer to the wheel hubs, you have a 5K/SD model.
We've updated our previous electronic systems, and now offer an automatic braking system that will control your trailer's brakes without a separate toggle switch. Newer models also have a more ergonomic rocker switch for forward and reverse controls.
Weight Capacities by Legacy Model:
P360 S - 2,500 lbs (1,134kg)
P360 M - 4,500 lbs (2,041kg)
P360 L - 9,800 lbs (4,445kg)
P360 XL - 12,000 lbs (5,443kg)
If you have any questions, Contact Us with photos or videos!